---
Witam wszystkich


Chciałem przedstawić wam swoją Borę którą posiadam od lutego 2012r.

MODEL: VW BORA

4

MOTION
SILNIK:1.9

TDI

ARL(+)
MOC:150KM(190KM)
MODY POD MASKA:program zrobiony przez chłopaków z ECU Project
ZAWIESZENIE:Gwintowane AP, tuleje wahacza S3
UKLAD HAMULCOWY:seria
KOLA:Intra SIgnum 18x8,5
NADWOZIE:w trakcie ciągłych zmian, kolor LC6X(oceanic green)
WNETRZE:seryjne
AUDIO:
-radio Pioneer avh-4400bt
-głośniki przód hertz hsk165
-głośnik niskotonowy powerbass l-124d
-wzmacniacz u-dimension pro z 4-110 comp
-okablowanie hollywood pro-44

Zaraz po zakupie auto miało wymieniony rozrząd oraz wszystkie płyny eksploatacyjne

Poniżej cała lista wyposażenia odczytana po nr VIN


Vehicle Identification No. WVWZZZ1JZ3D510340
Model Designation bora tdi var. 4motion
Date of production 07.08.2003
Model year 2003
Sales type 1J6397
Engine code ARL
Transmission code FMQ
Axle drive 6S
Interior trim code HU
Roof color 8Z
Exterior color / Paint Code 8Z / C6X
Activated carbon canister 1E0 Without activated charcoal canister
Additional body covers, side 6EA Without additional side body covers (stone guard)
Additional child seat anchors 3B0 Without additional child seat anchor
Additional dust seals 6U0 Without additional seals outside
Additional tires (winter tires) 2WA Without additional tires
Additional warning lights 9TB Additional warning lights (door area)
Air bag 4UE Air bag for driver and front seat passenger
Air duct, front area VK2 Air duct, type 2
Antennas 8L3 Roof antenna
Anti-theft protection system 7AP Electronic vehicle immobilization device w/ alarm syst., passenger comp. control, backup horn and all door opening
Antifreeze 1C1 Antifreeze up to -25 degree celsius tolerance up to -30 degree C
Automatic transmission indicator light 9FA Without automatic transmission indicator light
Auxiliary heating 9M0 Without auxiliary/parking heater
Backrest release 3H0 Without backrest release for front seats
Batteries J0L Battery 340 A (70 Ah)
Body measures 5C0 Without special body measures
Body style K8M Bora station wagon/Jetta station wagon
Brackets 3P1 Bracket for first aid kit and warning triangle
Brake pad wear indicator 9U1 Brake pad wear indicator
Brake type, front 1ZE Disc brakes, front (Geomet D)
Brake type, rear 1KE Disc brakes, rear
Braking systems 1AT Electronic stabilization program (ESP)
Breakaway interior mirror 4L6 Breakaway interior rear view mirror, automatically dimming
Bumper 2JN Comfort bumpers with chrome-plated strip
CD ROM/DVD/SD card 7QB CD ROM (Germany)
CD changer/CD player 7A2 CD changer
Carrier frequency for radio remote control 5D1 Carrier frequency 433.92 MHz-434.42 Mhz
Cassette and CD storage unit 4W0 Without cassette and CD storage unit
Cd enhancing underbody panel 2D1 Complete cd enhancing underbody panel
Center armrest 6E3 Front center armrest
Center rear seat belts 3C7 3-point seat belt for center rear seat
Chrome work package QJ1 Chrome work package
Component part sets with country-specific design requirements B0A Component parts set without country-specific design requirement
Components with special surface appearance 6FF Body-colored exterior mirror housings and various add-on parts
Controls (steering wheels/steering column) 4LF Radio and CCS controls
Cruise control 8T2 Cruise control system (CCS) electronic
Cup holder 4M6 Cup holder
Door and lid locking system 4K3 Radio remote controlled central locking operated from inside and safe securing
Door and side trim panels 4AF Door and side trim panel in foam film and woven fabric
Door pockets, front 3YR Door pockets with insert mats
Doors 0A2 4 doors
Drive layout 1X1 Four wheel drive
Electronic map cooling system QS0 Without electronic map cooling system
Emission standard 0GE Emission standard EU3
Engine compartment lighting 9L0 Without engine compartment lighting
Engine cooling system 8Z5 Not hot country
Engine specifications D3A 4-cyl. turbo diesel eng. 1.9 L/110 kW TDI with pump-jet injection system, base engine is T20/T9J
Equipment levels A8F Sports equipment
Exterior mirror setting 6XD Exterior mirrors: electrically adjustable/heated
Exterior noise suppression measures 2B1 Additional exterior noise suppression
Fire extinguisher 6A0 Without fire extinguisher
First aid kit / warning triangle 1T0 Without first aid kit and warning triangle
Floor coverings 3MF Dilours floor covering with scuff guard
Floor mats 0TD Front and rear floor mats
Fresh air intake for passenger compartment (with particulate filter) 2V5 Fresh air intake system with activated charcoal canister
Front fog light/additional headlight 8WA Without front fog light
Front license plate bracket 6W1 License plate bracket front (large)
Front stabilizer 0AS Front stabilizer
Front underbody guard 1SA Without additional front underbody guard
Fuel filler cap/door, locking option 2W0 Fuel filler cap
Fuel quantity for initial filling 1Z0 Initial standard fuel filling
Fuel systems 0F9 Cooled fuel system for diesel engine
Fuel tank treatment 2LB Fuel tank with special material treatment
Gearshift boot/cover 6R1 Leatherette gearshift boot
Gearshift knob/handle 7F3 Leather/wooden gearshift knob
General operating permit, alterations C31 Operating permit, alteration
Generators 8GL Alternator 120 A
Grab handles at roof frame 5N6 Folding grab handles at roof frame soft fold-away
Hand brake lever handle 6PC Leather hand brake lever handle
Headlight 8JW Twin headlight for driving on the right (gas discharge) w/ integrated high beam
Headlight activation 8K0 Without special headlight activation
Headlight washer system 8X1 Headlight washer system
Headlight-range adjustment 8Q2 Automatic headlight-range adjustment static
Headrests 3J7 Articulated and height-adjustable headrests for front seats
Heat accumulator system/additional heater 7E3 Sheathed type glow plug heater
Heated washer nozzles 9T1 Heated washer nozzles, front
Heating and air conditioning system 9AK Climatronic with impact pressure control free of cfc
Horns 8Y1 Two-tone horn
Identification plates 1EX Special identification plate for EC for M1 passenger vehicle
Ignition/starter switch locking system 0RA Without ignition/starter switch locking system
Insert for the filling up of unleaded fuel/fuel type 2G5 Filler neck module 1 without insert
Inserts 5MG Decorative inserts, burr-walnut
Installation differentiation for vehicle components 0EN Installation differentiation for transmission MQ 350 vehicle components
Instrument inserts U0C Instrument insert with tachometer clock and km/h speedometer
Left exterior mirror 5SL Left exterior mirror: aspherical
Left vanity mirror 4SD Left vanity mirror, illuminated
Lock operation for tailgate/trunk lid 4E0 Tailgate/trunk lid unlocking from outside
Lockable wheel bolts 1PC Wheel bolts with anti-theft protection (unlockable)
Luggage compartment cover 3U2 Sliding trunk cover
Luggage compartment floor covering 6SL Tufted trunk floor covering (cut pile)
Luggage compartment lining 5A7 Comfort trunk lining with service lid/ cover
Luggage net/pocket on backrest(s) 4U5 Luggage pockets on backrest
Lumbar support 7P4 Manually adjustable lumbar support in front seats
Manufacturing sequence differentiation 0FK Bratislava manufacturing sequence
Mass damper for steering wheels 1Q1 Mass damper for steering wheel, 26.5Hz
Multi-function display/trip computer 9Q2 Multi-function display/on-board computer with check control
Nameplate set 0NA Without nameplate set (without model designation)
Navigation device 7Q2 Navigation system with color screen
Outdoor temperature gage 9Y0 Without outdoor temperature gage
Outer rear seat belts 3ZG 3-point seat belts, outer rear with height adjustment
Owner's manuals 0VC Information kit in German
Paint coating FB0 Standard paint coating
Paint preservative/transit coating 5K1 Paint preservative (wax)
Park distance control 7X1 Park distance control
Partition 3CX Net partition
Platform group class 7PA Platform group class 1
Platform module floor pan, rear 4P3 Rear floor panel module, type 4
Preparation for sound combination for rotating emergency light 9F0 Without sound combination for rotating emergency light and radio antenna preparation
Preparation for two-way radio installation 9D0 Without preparation for two-way radio installation
Proportioning valve 1H0 Without proportioning valve
Protective side molding 4B8 Body-colored protective side molding with trim stripe
Radiator grille 6KJ Radiator grille with chrome-plated strip
Radios 8AY Radio/navigation system
Reading light 8S2 One reading light front, two reading lights rear
Rear axle 0N5 Standard rear axle
Rear cargo area 3GA Without cargo area
Rear fog light 8TC Rear fog light for driving on the right
Rear headrests 3Q9 Three rear headrests
Rear license plate bracket 6P1 License plate bracket rear (ECE)
Rear seat catch 6QA Rear seat catch
Rear seats 3NM Rear seat bench/backrest, split folding
Rear stabilizer 0BS Rear stabilizer
Rear window wiper and washer system 8M1 Rear window wiper and washer system with intermittent control
Restraint systems, front 3QT 3-point seat belts with tensioner and height adjustment, front
Right exterior mirror 5RQ Right exterior mirror: convex
Right vanity mirror 4TD Right vanity mirror illuminated
Roll-up sun screen for rear and side windows 3Y0 Without roll-up sun screen
Roof insert/convertible top 3FA Without roof insert (standard roof)
Roof rails/roof load rack 3S2 Black roof rails
Rough-road/sports version 2UA Standard design
Seat adjustment 3L3 Manual height adjustment for front seats
Seat belt check 9P0 Without seat belt reminder
Seat covering N3G Fabric seat covering
Seat heater 4A3 Seat heater for front seats separately controlled
Shock absorption, chassis, front G75 Front shock absorption
Side air bag 4X3 Side air bag front with curtain air bag
Side and rear windows 4KF Side windows in heat-insulating glass, from B-pillar and rear window dark tinted
Side lights 7R3 Side turn signal lights (white)
Smoking/non-smoking package 9JB Smoking package, ashtray front and rear
Socket 7B2 12-volt socket in luggage boot
Spare wheel/breakdown set 1G1 Space-saving spare wheel
Speaker installation 8RM 8 speakers (passive)
Special alarm systems 9A0 Without taxi alarm system
Special color trim 0UA Without special color trim
Special editions E0A No special edition
Special labels/plates 0SB Labels/plates in German
Special registration measures 3M0 Without special measures
Steering column systems 2C5 Axial and vertical adjustable steering column
Steering system arrangement L0L Left-hand drive vehicle
Steering wheels 2ZB Leather multi-function steering wheel
Sticker (customized or special edition) 0KA Without stickers and badges
Supertone system and tone sequence control 9J0 Without supertone system and tone sequence control
Taillight assemblies 8SA Taillight assemblies, standard design
Telephone/telematics 9W9 Car phone installation
Throttle actuation 0L2 Electric throttle actuation
Tires H6L Tires 225/45 R17 91W
Tool kit and jack 1S7 Tool kit and aluminum jack
Trailer hitch 1D0 Without trailer hitch
Transmission specifications G0L 6-speed manual transmission for four-wheel drive vehicle
Transmission types/gearshift mechanisms 0G4 Cable gearshift
Tray 7N0 Without tray on roof liner
Type approval countries/countries with special requirements B01 Type approval Germany
Vehicle class differentiation units/platform components 0CE Vehicle class differentiation 1J0
Vehicle specifications F0A No special purpose vehicle, standard equipment
Vehicle type AZ0 Vehicle with standard production scope
Washer fluid level indicator 8W1 Washer fluid level indicator
Weight category front axle L08 Suspension range 08 installation control only, no requirement forecast
Weight category rear axle 0YZ Without determination of weight category for rear axle
Wheel covers 1NL Covers for alloy wheels
Wheels CK6 Cast alloy wheels 7J X 17 offset 38
Window regulator 4R4 Power windows with comfort operation and circuit breaker
Windshield glass type 4GC Windshield in heat-insulating glass with sunshield
Windshield wiper intermittent control 8N3 Windshield wiper intermittent control with rain sensor
P07
PCH
PJ7
PM5
PME
PTR
PXE
Child seats QA6 Two integrated child seats
Front seats Q4P Sports front seats
Nameplates for sales name QD0 Without lettering for sales name
Service interval prolongation QG1 Service interval prolongation
Shock absorption, chassis, rear UB0 Rear shock absorption, sports design four wheel drive
Steering QZ3 Power steering (limited steering lift mechanism)
TV reception/digital radio reception QV0 W/o TV reception/digital radio reception
RHA
Base engine T20 4-cylinder diesel engine 1.9 L unit 038.R
Tire suppliers V0G MICHELIN tires

A tutaj pełna lista kodów z naklejki:


0BS = Rear stabilizer
3S2 = Black roof rails
3U2 = Sliding trunk cover
QG1 = Service interval prolongation
0G4 = Cable gearshift
8AY = Radio/navigation system
8GL = Alternator 120 A
8L3 = Roof antenna
1H0 = Without proportioning valve
1KE = Disc brakes, rear
1ZE = Disc brakes, front (Geomet D)
3YR = Door pockets with insert mats
G75 = Front shock absorption
4UE = Air bag for driver and front seat passenger
4X3 = Side air bag front with curtain air bag
4R4 = Power windows with comfort operation andcircuit breaker
4K3 = Radio remote controlled central locking operated from inside and safe securing
N3G = Fabric seat covering
5MG = Decorative inserts, burr-walnut
8RM = 8 speakers (passive)
2JN = Comfort bumpers with chrome-plated strip
E0A = No special edition
0AS = Front stabilizer
0GE = Emission standard EU3
UB0 = Rear shock absorption, sports design four wheel drive
L08 = Suspension range 08 installation control only, no requirement forecast
0YZ = Without determination of weight categoryfor rear axle

Kilka fotek jak auto wyglądało zaraz po zakupie i rejestracji.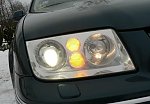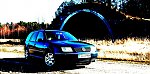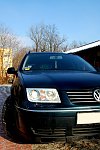 Fotki ze środka. Mały bajzel na dywanikach ale było zimno przez co nie było ochoty na sprzątanie




Naklejki na tylnej szybie jeździły jakiś czas na aucie, lecz szybko trzeba było to zmienić



Podziękowanie dla JackaB za uaktywnienie domykania szyb z pilota


W drodze do Rothenburg'a


i ekipa




Podziękowania dla kolegi paww18 za graty
Pierwsza większa wymiana części eksploatacyjnych




Kiedy tylko zaczęło robić się ciepło przyjechały da mnie Wintery a8, lecz nie doczekały się założenia na auto




Zrobiłem sobie mały lift dokładki




A potem Grill na czarno




I auto w sezonie 2012 prezentowało się tak





2013

Od zimy zaczęło się odkładanie pieniędzy i zbieranie gratów do auta, a wszystko pokazane poniżej:


Fanty które wpadły do auta:
- gwint AP- podziękowanie dla Maniek_a4 za ogarnięcie przodu

- felgi Mercedes INTRA Signum 8,5Jx18" ET50 guma 215/35
- dystanse 5x100 --> 5x112 2x25mm i 2x30mm
- podkładki podnoszące silnik od KUMAN'a
- revlimiter i launch control by KUMAN
- nie pisałem o programie w 2k12 na 190KM i 410Nm więc niech będzie tutaj. Wszystko zrobione u chłopaków z ECUproject
- radio Pioneer AVH-4400bt

Jest jeszcze kilka detali to zrobienia takich jak:
- komplet listew bez chromu
- oklejenie przedniego znaczka czarną folią a tylny do malowania
- bardzo prawdopodobne jest że maska pójdzie do malowania, oraz przedni zderzak
- pranie wnętrza

kilka fotek




I filmiki
[youtube]http://www.youtube.com/watch?v=TLZ8tO27ldI[/youtube]
[youtube]http://www.youtube.com/watch?v=zw3uHQMbcwI[/youtube]

W tamtym tygodniu zrobiłem sobie zabudowę gwizdków w lusterkach. Może nie wyszło idealnie, ale zrobione samemu.




A no dodatek doszło duże prawe lustro (trzeba pomalować) i ori otwieracz VW


Opony tylne skończyły się dość szybko. Chyba były trochę wiekowe i negatyw im w tym pomógł




Więc wpadły regulowane wahacze co by troszkę tył wyprostować




A tutaj filmik jak razem z afej'em robiliśmy jego PAŹDZIERZA i załapał się też mój SZTRUCEL z zimą na tyle

[youtube]http://www.youtube.com/watch?v=Gwx8WcA1MrA[/youtube]

Pewnego rana zostałem zaskoczony telefonem od afej'a że jest coś co muszę mieć, a jak tego nie kupię to będę idiotą. Szybka obczajka i paczka szła już do Nas. Czas oczekiwania i nadzieję że wszystko jest ori dały w kość. Warto było czekać i nie trzeba było martwić się na zapas, a oto co było w paczce: